A socially justified Energiewende and a European partnership: Pfaffenhofen an der Ilm and Galway
German / Good to know / Marburg-Biedenkopf-Koscierzyna / Steinhagen-Woerden / Alheim-Dunleer / Braunsbedra-Kozani
The new established twinning between the Bavarian city Pfaffenhofen an der Ilm and the Irish city of Galway could not be greener.
The 26,000 residents of Pfaffenhofen are surrounded by forest and agriculture, and Galway is located on the coastline in wild greenery. But the cities have more in common than their green landscape: Both are engaged in the Energiewende. Therefore, Galway and Pfaffenhofen will share their experience about renewable energy, cooperatives, district management and innovative projects with gas-to-power technologies.

'Creating a socially just Energiewende with the goal of a democratic, decentralized and renewable energy supply in Pfaffenhofen is our duty. Citizen participation in this process succeeds via our citizen energy cooperative, with approximately 700 members, and via our municipal utility, whereby the added value remains with us locally.' - Thomas Herker, Mayor of Pfaffenhofen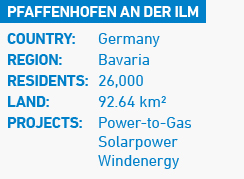 Pfaffenhofen an der Ilm has been involved in climate protection for years now and proves that citizens need to be part of the Energiewende to achieve a successful, decentralized energy system. The citizen cooperative Pfaffenhofen a. d. Ilm eG generates solar power on the roof of the railway station and also runs citizen-supported wind farms. The "Energie-Kommune" Pfaffenhofen has involved citizens from the beginning. When a referendum was held to find out if citizens would like to build the wind farm nearby, 57 percent of the residents agreed. Pfaffenhofen has a lot of experience implementing renewable energy projects, but they keep trying out new things. For instance, the innovative Infinity One project focuses on power-to-gas technologies in the mobility sector. Renewable electricity is converted into hydrogen, and then CO2 is added to produce biomethane gas for around 250 cars. The project is realized by the city and its local energy operator in cooperation with the citizen cooperative. Galway's interest in the exchange especially includes Pfaffenhofen's experience in the process of coupling sectors to gain a 100 percent renewable power supply in the region.
'Legal arrangements are different in both jurisdictions, which may create barriers. However, the sharing of experience and knowledge could be very beneficial. Forging strong bonds across the EU is also in keeping with the co-operative ethos of solidarity' - David Killilea, Galway Energy Co-Operative Ltd.
Despite the different laws in Pfaffenhofen and Galway, the partner cities will benefit from sharing experience and knowledge. The city of Galway also uses solar power and has four wind farms – the biggest one onshore in Ireland. The city also invests in district management. Many buildings in the city have already been retrofitted for energy efficiency, but Galway seeks to do this for the most in need, those in energy poverty. This intends to make the energy transition more equitable and fair. Projects in planning for Galway are the renovation of a historic water wheel and a solar array in collaboration with another co-operative. Pfaffenhofen an der Ilm has experience with hydropower, solar enrgy and local citizen participation and can thus assist Galway City. In return, Pfaffenhofen a. d. Ilm will benefit from Galway's experience with socially just renovations. The collaboration is a clear signal for a socially just Energiewende in Europe.
German / Good to know / Marburg-Biedenkopf-Koscierzyna / Steinhagen-Woerden / Alheim-Dunleer / Braunsbedra-Kozani