Energiewende twinning towns
European communities, apply now – sharing knowledge and experience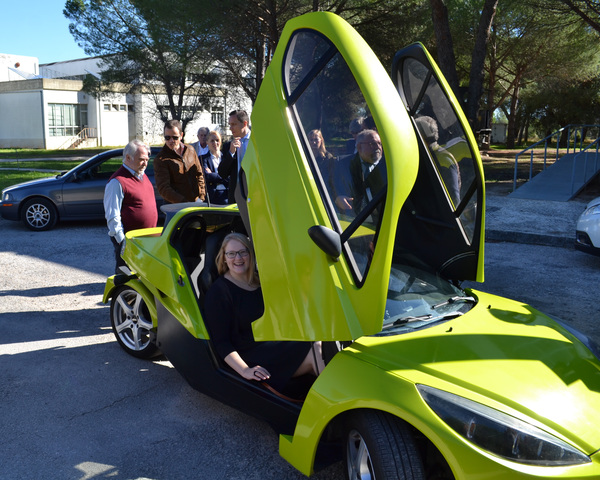 The project is funded by the Federal Foreign Office of Germany. It aims at existing or planned cooperations between cities or communities that intend to deepen or initiate their cooperation on renewable energies. The core of the project are bilateral workshops in one of the twinning municipalities, which offer municipal authorities and local stakeholders such as public utilities the opportunity to exchange experience and transfer knowledge. In moderated workshops, you will be able to exchange practical know-how related to renewable energy technologies. Depending on your needs, you may also focus on the exchange of know-how on issues such as management, spatial planning, financing and the participation of citizens in energy transition processes.
An expert jury will review the ingoing applications and choose five town twinning pairs. These twinning towns will get the chance to present and discuss their ideas in the kick-off-event on May 28th 2019 in Berlin.

What is on offer? What will be funded?
Kick-off event on 28th May 2019: representatives from the participating communities get to know each other and present their projects and ideas. The event will be held at the Federal Foreign Office and includes an excursion to a good-practice-project in Berlin.

Two moderated Online-Webinars: The first webinar aims to jointly determine the topics of the workshop. The second webinar will be used as a follow-up of the workshop.

One Workshop in one of the twinning towns is dedicated to initiate new projects. Solutions on how to tackle open questions and obstacles should be proposed. The twinning towns can set up individual timelines and initiative further steps.

Final event in the second half of 2020: The aim of the event is to ensure a transfer of knowledge between the communities. The twinning towns present their workshop results and the participating local representatives get the chance to strengthen their European network for a sustainable energy transition at the local level.
For whom is the project interesting?

Does your municipality or your local public utility promote renewable energies? Do you already have experiences related to renewable energies? Are you in contact with European communities and willing to share your knowledge and experience? Are you looking for inspiration through exchange? If so, the project Energiewende twinning towns could be interesting for you!

The pilot project Energiewende twinning towns was successfully launched in 2017. The organisation and follow-up is carried out by the Renewables Energies Agency and the Humboldt-Viadrina Governance Platform. Your municipality or local public utility would like to focus more on topics of the energy transition but you do not have yet a European partner community? Please get in touch with us. We will support you finding a suitable "Energiewende twinning town".
Contact
Christina Hülsken
Telephone: +49 (0)30 200 535 40
E-Mail: c.huelsken@unendlich-viel-energie.de